Wed, 25 Jul 2007
The Australian Government is a Terrorist Organisation
Says it all
here
really.
Posted at: 13:07 | category: /rants | # | 0 comments
Tue, 24 Jul 2007
zog djs at polynate this 10th aug 2007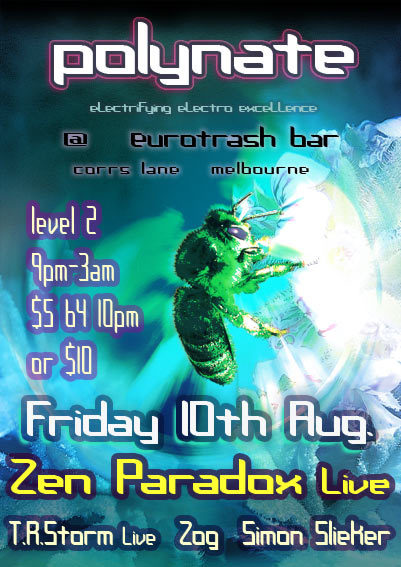 This will be great as it will be Simon Slieker, Zen Paradox and the newly reformed TR Storm all going mad across two levels
blurb shamelessly nicked from the POLNATE myspace page.. thanks Kali!
I'm a super sexy laid back audio stigma that happens once a month on a Friday for your booty shakin pleasure on levels 2 & 3 @ eurotrash bar, Corrs La, Melbourne. Enticing you to wobble n wiggle, move n groove, shake n bake, lounge n laugh, float n fly... All bases are covered with resident dj Simon Slieker holding fort for the electrifying electro experience with guest dj's/artists each month catering to your funky techno/electo needs :) check back here regularly for announcements.. The live n laptops chill lounge is on hold for now... stay tuned for news on that ;) And bee prepared for the CD launch of Polynated on Sept 7th!!! It's gonna go OFF!!!
Posted at: 21:52 | category: /bleeps | # | 0 comments
Fri, 06 Jul 2007
PET HATES: BAG SEARCH POLICIES
OK.. In an airport there are security issues and contraband smuggling and just general safety and quarantine to think of, searching the bags is fine. But.. in a discount supermarket? - hey I am innocent til proven guilty sorry! The Law trumps store policy every time, no matter what you say. Solution: go next door and buy the same crap from another supermarket.
Posted at: 19:17 | category: /rants | # | 0 comments
Mon, 02 Jul 2007
more google double standards?
"So, apparently HMOs criticizing Michael Moore is okay, but random-guy-with-a-website criticizing a large corporation is not okay. 'Democratic,' indeed."
more at boingboing
Posted at: 21:09 | category: /rants | # | 0 comments